Located in the heart of Amsterdam, on Dam Square, the Nieuwe Kerk (The New Church in English) is one of the most important religious edifices in the city.
The "New Church" was designed in the fifteenth century and consecrated in 1409. Its enormous glass stained windows and pointed arches have witnessed many royal weddings and the coronation of the monarchs of the Netherlands since 1814.
History
Although the Oude Kerk was enlarged on several occasions, it became too small to fit the expanding population in Amsterdam. Permission was given to build a new church in the city center, which would be called the Nieuwe Kerk. It took approximately 150 years to finish it.
The wealthy merchant Willem Eggert made a large donation and provided the land where the Gothic-style church would be built.
Unadorned interior
All travelers who explore the historic center of Amsterdam will walk past the Nieuwe Kerk at least once, since it sits next to the Royal Palace on Dam Square. 
Unless you have purchased the I amsterdam City Card, we don't recommend accessing the interior of the church, since it is quite plain. If you only have time to see one temple, we suggest visiting the Oude Kerk.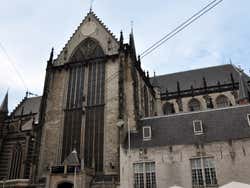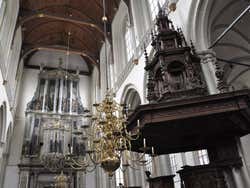 Schedule
Every day: 11am - 5pm. 
Price
Adults: € 9 (US$ 9.70)
Children under 11: Free
IAmsterdam Card: Free
Transport
Tram: Dam, lines 4, 9, 16, 24 and 25.