Dam Square is the most important plaza and best-known in Amsterdam. During the thirteenth century, this spot is where the first dam on Amstel River was built, thus its name.  
Situated in the Old Town, Dam Square was once the central point of the city. It is surrounded by beautiful historic buildings, including the Royal Palace.
National Monument
In the middle of the square stands the National Monument, a 22-meter white-colored obelisk built in memory of the Dutch soldiers killed during World War II.
Nowadays, many tired tourists rest on the steps of this large column when it doesn't rain and locals use it as a classic meeting place.
Royal Palace
The Royal Palace, constructed between 1648 and 1655, dominates Dam Square. This magnificent neoclassic building was first built as the city's town hall. It was then transformed into the king's royal palace and now houses several official acts.
Dam Square also houses other landmarks like the Nieuwe Kerk (New Church in English) and the Madame Tussaud Museum.
Great place to rest
Dam is not only a striking square, but also a great area to relax and contemplate the city's lively atmosphere. If you visit Amsterdam during a festivity, head to the Dam Square to enjoy free concerts and other events.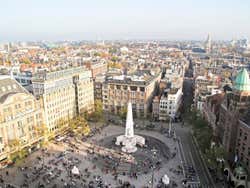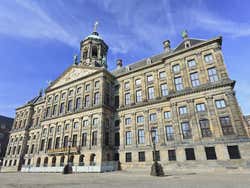 Transport
Tram: Dam, lines 4, 9, 16, 24 and 25.