Westerkerk is a Renaissance-style church in the center of Amsterdam with a stark façade and a beautiful organ decorating its interior.
Constructed between 1620 and 1631, Westerkerk's mayor highlight is its 85-meter bell tower, housing an hour striking bell that weighs over 7,000 kg.
Climbing the tower
If you want to enjoy the best panoramic views of Amsterdam, we highly recommend climbing to the top of the Westertoren ("Western Tower").
Only small groups of maximum six people can visit the church's observation deck at a time. Since you need to book beforehand, we suggest you reserve your place as soon as you get to the church, as not to wait for very long.
The entrance ticket includes an English-speaking guide who will accompany you to the observation deck and offer interesting information about the church and its tower with the spire.  
Very worthwhile
Although the visit of the inside of the church is free, it is quite stark and there is not much to see. Contrarily, the visit to the Westertoren is extremely thrilling and offers impressive views of "The Venice of the North".  
Since The Anne Frank House is so close, we suggest you visit both attractions on the same day.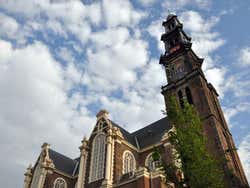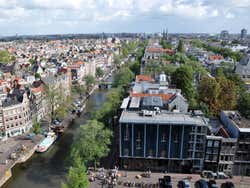 Schedule
1 April - 1 November:
Monday to Friday: 10am - 3pm. 
Saturdays: 10am - 3pm.
2 November - 31 March:
Monday to Friday: 10am - 3pm. 
Price
Adults: € 7.50 (US$ 8.10)
Transport
Tram: Westermarkt, lines 13, 14 and 17.