Red Light District in Amsterdam
In the heart of Amsterdam is the De Wallen neighbourhood, an area that stands out for the many neon and red lights that adorn its shop windows.
Amsterdam's Red Light District is located in the Old Town and is the most visited neighborhood of the capital, attracting thousands of curious tourists.
A historic district
Prostitution is believed to be the world's oldest profession. In the Middle Ages, the brothels in Amsterdam were administered by sheriffs and their trusted men.   
In the capital of Holland, the first brothel window displays appeared in the seventeenth century. The window displays of the past were very similar to those nowadays.
Is it legal?
In 1911, the Dutch government made this profession legal. Amsterdam is one of the thirteen Dutch towns with Red Light Districts.
Prostitutes rent one-cabin rooms with a window display and pay their taxes like any other working citizen living in Holland.
A must-see
Strolling through the streets of the Red Light District is a must in Amsterdam. It is one of the most touristy areas of the city, and it is also packed with iconic landmarks like the eight-hundred-year-old Oude Kerk and the Amstelkring Museum.
Unlike other cities, Amsterdam's Red Light District is normally full of people and quite safe; nevertheless, be careful of pickpockets.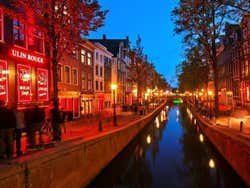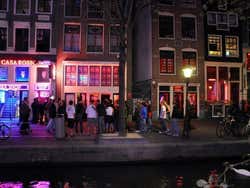 Transport
Tram: Dam, lines 4, 9, 16, 24 and 25; Nieuwmarkt, line 51.