Our Lord in the Attic Museum
Once a clandestine church, Our Lord in the Attic is a fascinating museum and one of the oldest institutions in Amsterdam.
The apparently normal house built on Voorburgwal street three hundred and fifty years ago once hid a secret Roman Catholic chapel: Our Lord in the Attic Church.
Clandestine chapel?
Before the mid-sixteenth century, Amsterdam was a Catholic city with numerous Roman Catholic churches. However, the city fell into the hands of the Protestants with the Alteration (Alteratie in Dutch) in 1578. From this year onwards, Catholicism was banned, and most churches were either closed or reformed. Consequently, the Catholics built clandestine chapels hidden away in houses.
Our Lord in the Attic Church, also known as Amstelkring, was the second clandestine church built in Amsterdam after Begijnhof.
What to see?
The main highlight of the museum is the secret chapel Our Lord in the Attic, which you get to by walking up a steep and narrow staircase.  On the top floor is a small chapel with narrow benches and two semi-floors suspended from the roof. It's believed that the church could seat up to 150 people.
Visitors will also explore the house's kitchen, confessional, and other rooms full of religious items.
A special attraction
Amstelkring is a truly surprising museum and is unlike any other in Amsterdam. Three buildings joined by openings in the walls, galleries, beams, and steel braces accommodate an intriguing place of worship where many citizens came to pray.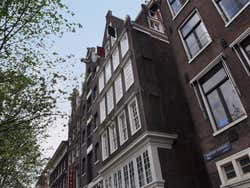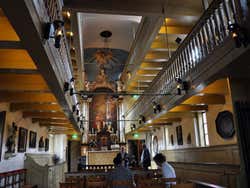 Schedule
Monday - Saturday: 10am to 6pm.
Sunday and public holidays: 1pm to 6pm. 
1 January and 30 April: closed 
Price
Adults: € 15.50 (US$ 16.70)
Students: € 10 (US$ 10.80)
Children between 5 and 17 years old: € 7 (US$ 7.50)
Children under 5 years old: free admission
With the I Amsterdam City Card: free
Transport
Metro: Central Station and Nieuwmarkt, lines 51, 53 and 54.
Tram: Dam Square, lines 4, 9, 16, 24 and 25.