Operated by GVB, Amsterdam Metro includes both underground lines and light rail system. Visitors will not find this means of transport very useful.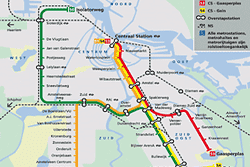 Amsterdam Metro map
The metro network in Amsterdam has four lines and over one hundred trains.
Lines
Useful for tourists?
Amsterdam Metro is particularly useful to get to the city's outskirts. If you want to discover the city center and visit the most popular attractions, we recommend you use the urban buses or the tram.
Schedule
The metro network opens every day at 6 am and closes at 12:30 am (midnight). The trains normally run every 10 minutes.
Price
A single journey is € 2.60 (US$ 3). If you plan on using Amsterdam's transport system, we recommend you check out the various types of travel cards to save money.