Flower Market in Amsterdam
Founded in 1862, Bloemenmarkt is a beautiful and touristy flower market floating on the Singel canal in central Amsterdam.
During the nineteenth century, when the market was first built, hundreds of boats full of flowers and plants would sail to the Bloemenmarkt to sell their goods. The horticulture in Holland has always been an important part of everyday life.
Nowadays, it is practically impossible to tell that this covered market sits on the waterway, since the various stands are placed on platforms and large barges that are safely attached to the edge of the Singel canal.  
What to buy at the Bloemenmarkt?
The Market of Flowers offers all types of flowers and small plants, including different varieties of tulips, numerous types of seeds and gardening objects.  
Known as "flower shop of the world", Holland is best-known for its beautiful tulips, so the most popular souvenir is the tulip bulb.  
Our opinion
The Flower Market is a true pleasure for the senses (at least for the visitor's sight and smell). Tourists will find plenty of typical Dutch souvenirs in this pretty floating market.
If you enjoyed the trip to the flower market, perhaps you would also enjoy a tour of Keukenhof, Amsterdam's flower garden.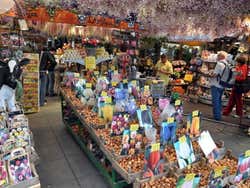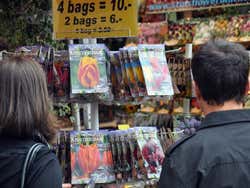 Schedule
Monday - Saturday: 9:30am to 5:30pm
Sundays: 11:30am to 5:30pm
Transport
Tram: Koningsplein, lines 1, 2 and 5; Muntplein, lines 4, 9, 14, 16, 24 and 25.