Hortus Botanicus (Botanic garden)
Designed in 1638, Amsterdam's Hortus Botanicus is one of the oldest botanical gardens in Europe. Located in the Plantage district, it was first built as a herb garden. 
During various centuries, Hortus Botanicus, first known as Hortus Medicus, grew thousands of exotic plants and herbs used by doctors and pharmacists in Amsterdam and the rest of the world.
This historic botanical garden grew the first coffee plant in Europe.
Visiting Hortus Botanicus
Although De Hortus is not very extensive, visitors can explore several greenhouses with various climates. In just a few minutes, you can walk from a humid tropical hothouse to a part of the garden that is desert-like.
One of the most important plants in the botanic garden is the palm tree and its different varieties.
Great for children
Visiting Hortus Botanicus is a good option if you are traveling with children, followed by a visit to the Artis Zoo, both very close to each other.
Although Hortus Botanicus is one of the oldest botanic garden in the world, we do not consider it a must-visit in Amsterdam, only if you have already explored the city's top attractions.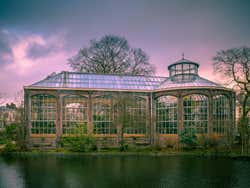 Schedule
Every day: 10am to 5pm.
In July and August: Sundays closes at 7pm.
Price
Adults: € 11.50 (US$ 12.40)
Children between 5 and 14 years old, students and seniors over 65: € 6.50 (US$ 7)
I amsterdam City Card: free admission
Transport
Tram: Mr. Visserplein, lines 9 and 14.