Located in the heart of Amsterdam, the Anne Frank House (Museum) is one of the most-visited museums in the city. Anne Frank and her family hid in this house from the Nazis during World War II.
Who was Anne Frank?
Anne Frank was a German-born Jew persecuted during the Second World War who moved to Amsterdam when the Nazi regime in Germany rose to power. When the Germans invaded the capital of Holland, she and her family hid at the back of this centrally located house for two years, from 1942 until 1944, with four other Jews.
During her time in hiding, she wrote a diary "The Diary of a Young Girl" where she disclosed all her ideas, worries, and events.
In the summer of 1944, the family was discovered and deported to the extermination camps. The only survivor was Anne's father who was given Anne's diary when the war was over.
Visiting the Anne Frank Museum
Visitors will find the Anne Frank House extremely interesting and well laid out. At the entrance desk, you can collect a brochure in English that explains in detail what each of the rooms was used for, which also includes extracts from Anne's diary.
"One day this terrible war will be over. The time will come when we'll be people again and not just Jews."
During the tour, you'll discover the father's company building, the desks of those who helped the family during the two years, and where the eight people hid out.
Not to be missed
It's extremely moving to visit the Anne Frank Museum, especially if you have read her diary. The house has been kept exactly as it was in the 1940s and is one of the most popular attractions in Amsterdam.
The Anne Frank House is one of the most unique and special museums in the capital of Holland, definitely worth visiting. If you would like to book a tour of the house and Jewish quarter, click here.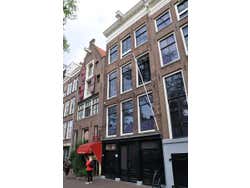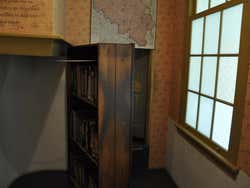 Schedule
1 April - 31 October: 9am - 10pm.
1 November - 31 March: 9am - 7pm.