The Oude Kerk (The Old Church in English) was built in 1302 and is the city's oldest building. Established at the beginning of the thirteenth century, the chapel was first made of wood. It was then renovated and built of stone. Consecrated in 1306, it has become the city's most important Gothic church. 
In the center of the Red Light District
Surprisingly, the Oude Kerk is located in the heart of the Red Light District. The edifice is surrounded by bright red lights and numerous women behind their windows. The contrast of these two elements manifests how liberal, but religious the Dutch population is.
Inside the Oude Kerk
The interior of Oude Kerk was stripped of all its decoration in the late sixteenth century after the Alteratie (take over of Amsterdam by the Protestants). Before this date, the Oude Kerk had been a Roman Catholic church. The church was raided on several occasions, destroying most of the temple's decoration, including paintings and statues.
Some of the most beautiful parts of the temple include an enormous vaulted wooden ceiling that still conserves paintings from the fifteenth century, striking intact stained-glass windows, and its four-pipe organ, which stands out compared to the bare decoration.
An alluring temple
Due to its curious location, its convoluted history and bare decoration, the Oude Kerk is Amsterdam's most magnificent church.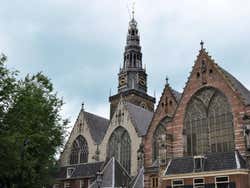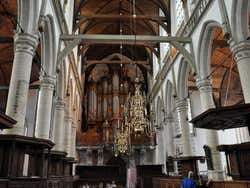 Schedule
Monday to Saturday: 10am - 6pm
Sundays: 1pm - 5:30pm.
Closed: 25 December, 27 April. 
Price
Adults: € 10 (US$ 10.80)
Students, seniors over 65 years old: € 5 (US$ 5.40)
Children under 13: free admission
Transport
Tram: Dam, lines 4, 9, 16, 24 and 25.